The giveaways were a big hit! We wound up with eleven pairs of mufflers and one crossflow muffler to raffle off, and at the last minute it was decided to include two of the exhaust CDs and a head stand as well. What followed, though, was more painful public speaking by yours truly. Fortunately my accomplice Becky kept things rolling as we soldiered on like the troopers we were to get through to the last CD. That taken care of the final order of business for the display was the presentation of awards. I think I've worn out several pairs of ears talking about them, but what more can you do than get something you would be honored to have grace your own bookshelf? Grudgingly I handed them to the deserving owners, who have the final two pages of this story reserved for their pictures and captions, and no nonsense from the editor.

What? That can't be all of the story! What about Dave & Buster's? What about next year? Well if you had GONE to Dave & Buster's you would know how great it was, and as for next year - I'm so very, very tired...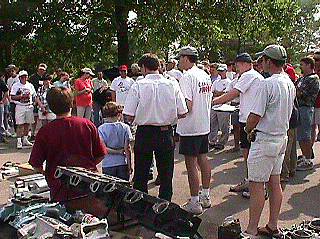 The Great Muffler Giveaway!