We backtracked to the main road and a stop at what has to be the most attractive Harley Davidson dealership I've seen. Although it is pretty far into the riding season they still had some interesting iron on the showroom floor. They also had free popcorn, a television, and a puzzle for the kids. Our children didn't get along unsupervised for very long, but it was long enough for us to take a look around.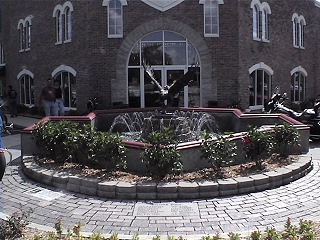 Historic courthouse or hotel?
No, the local Harley dealer!