After lunch we headed for the Boston checkpoint of our road rally. Let me just say that I would never buy a rental return unless it was the Shelby-Hertz GT350 4 spd back at Ames. While we had been warned of heavy traffic we had no problems getting to Boston (or throughout our trip for that matter), but it is not as easy as I thought it would be to find the Historic district. We managed, and amidst the construction and modern buildings the historian in you is treated to a trip back in time. The few hours we allotted for the freedom trail was not enough.

Around 6:30 pm (still Monday) we hit the road again and made for the Cape. We detoured through Hyannis, the only stop-and-go traffic we ran into, and were pleasantly surprised by the beauty of Chatham, our seaside vacation spot. While there aren't any good stories to tell, this was probably the highlight of the trip (sorry POCI). The temperature throughout New England was hovering around 90 degrees, but Cape Cod was a paradise as a result of its location. I'd forgotten how much I enjoy just laying around on the beach listening to the waves and sea gulls.

Wednesday was D-Day and we did our best to get to the swap meet before all the Ram Air V motors were gone...too late! I did find the two things I was looking for: a 1997 dealer book and a '69 Judge (toy) for my son. Our arrival was delayed slightly by a desperate attempt to find different lodging. After an outstanding hotel in Chatham we were booked in Sturbridge's version of the Bate's Motel (a co-occupant comment).

The offerings at the meet were not bad, but many of the things Mark was interested in were apparently gone already. We spent the rest of the afternoon wandering around looking at the show entrants. Mark was wearing his Classical Pontiac polo that day and Lee was right, it must not be flashy enough!

Thursday was show time! This time it was my turn to be incognito with a CP polo. I would think that almost no matter which Pontiac you were wanting to see at least one was there. One of the first that caught my eye was the "Fitch" bird seen here. It was based on the 6 cylinder Sprint and sported "flying buttress" panels arched over the rear deck. Not too far from this car was the first Pontiac race car. It was in "unrestored" condition and a nice addition to the field.

Further up the row was what is perhaps number 4 on my list of most desireable Pontiacs, a '69 Trans Am. For those of you not familiar with it, it is the first year for the T/A and the last year for the first generation body style. Original production was 697. This was a nice example that was flanked by some equally nice second generation early 'birds.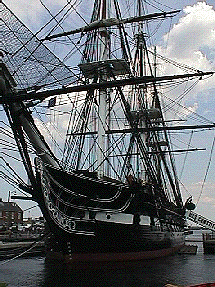 U.S.S. Constitution, Old Ironsides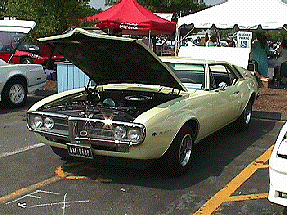 "Fitch" 'Bird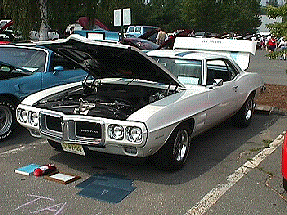 '69 Trans Am