One of these was a '72 Firebird Formula 455 4 spd. This just happened to be owned by Frank Gatarz, a Classical Pontiac regular who had emailed me to arrange a meeting at the show. We had a nice conversation (thanks for the kind words, Frank) that included a discussion with High Performance Pontiac's new editor. As you can imagine I humbly pointed out the attributes of my favorite website.

Another short walk and we were rewarded with a view of one of the more unique footnotes in Pontiac's history, a '72 Hurst SSJ Grand Prix. Hurst and Pontiac have always had a close relationship, and the roots for the '98 Hurst Trans Am were immediately apparent when looking at this car. It was immaculate and garnered much attention from the show-goers.

Beside and behind the host hotel was a nice shaded lawn bordering a lake. One section contained the '50s and older contingent while the points judged cars were furthest from the front. Again no disappointments here. The early cars displayed more color variation than I recall seeing elsewhere, perhaps the nice layout for them highlighted their hues.

After spending several hours looking over the cars we headed into the hotel lobby to discuss our plans for the remainder of the day. Here we came across Jim Wangers signing copies of his new book and the print collection he markets. I want to take a moment to thank him not only for all that he has done for the creation of the cars we cherish, but also for his continued involvement with the hobby. This was my first chance to talk to him and he was immediately pleasant and engaging. He was gracious enough to talk about my cars which shows how magnanimous he truly is.

At this point our primary mission was accomplished. We spent the rest of the day walking the "streets" of Old Sturbridge Village and reflecting on our vacation which was sadly nearing its end. That night a trip to the theater to watch Armageddon reminded me how insignificant my problems are. Of course if I was Bruce I'd let the other guy stay.

Friday morning it was back on the road again with a quick stop at the Higgins Armoury Museum. I've always been fascinated by knights and the Middle Ages (as I guess most kids are) and was once again pleasantly surprised by a stop on our trip. Now if I could just buy that building and then move Steve's cars there...

Returning to New Hampshire was uneventful and anticlimactic. We had done so much in so little time that we couldn't help but be let down. On the bright side our car held together and looked surprisingly good after 760 punishing miles. "So, where was next year's convention again?"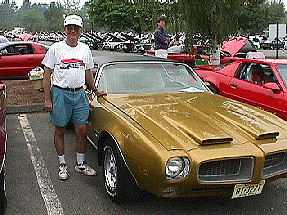 Frank and his Formula 455 4 spd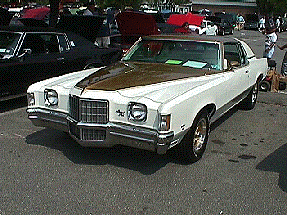 '72 Hurst SSJ Grand Prix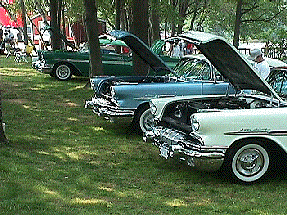 Part of the '50s Contingent