I received an email about a week and a half ago from an early supporter of Classical Pontiac, "RamAirGTO", owner of the second Feature car: Liberty Blue 1969 Judge. He was going to participate in Hot Rod Magazine's Power Tour '98 and wanted to know if I was anywhere near St. Louis. I don't talk about it much, but I'm a proud resident of St. Louis County. After exchanging a few emails the plan was for us to meet at Laclede's Landing, the proposed location for the show/cruise.

Not being a subscriber to HRM I searched in vain for schedule information on the 'net. Finally, the day before the event, I called the Landing only to be told that as a result of the large turnouts the venue was changed to Gateway International Raceway. Again no luck in finding out details, but the track did think that gates would open around 12:00 and the tour should arrive around 3:00.

That was enough for me to pack cards, decals, flyers, camera, and myself into The Judge for the journey. After a pleasant drive sure enough the event was at GIR (kinda like GRRRR!). I registered, parked, and settled in to watch the practically endless stream of cars cruise through the gates. When the dust settled approximately 500 cars had found their way into the infield and parked to the admiring gazes of the crowd.

Amongst this sea of machinery were some fine examples of the Chief's handiwork. A few cars down from me was a nicely done tilt-front '66 GTO. The all-steel front clip was actuated with an electric motor (no leaks here). Further down was a blown '65 Lemans. Across the way was a very original looking '74 Super Duty Trans Am from Lee's Summit, Missouri. Scattered throughout were a pair of '66 GTO hardtops, a '67 GTO, a nice pro street '64 GTO that I didn't have a chance to get close to, and several other representatives from each Firebird and GTO generation. Various modified fourth generation Firebirds were there as well as a '98 Hurst WS6 Trans Am. Other notables were an early Grand Am (sorry Tim, I don't know what year), and a '65 Catalina.

The standout (to me anyway) was none of these cars, it was a '67 Firebird that was under restoration as it traveled. Though sporting a 400/4 spd combination it was originally a 326 HO car (a nice collectible in its own right). The owner had picked it up just prior to the tour still in red primer. None of this is really the interesting part, he and his co-pilot bought several cans of white primer and completely covered the car. Next they procured some markers and at each stop allowed passers-by to help decorate the body with their signature, artwork, humor, etc. As you can see from the pictures it was pretty well covered by the time it reached St. Louis!

Although it was quite hot on the blacktop, it was much better than trying to get a glimpse of the cars through the torrential rain we've had for the past three weeks! I had an enjoyable day, I saw some nice cars, met a few people, took a few pictures, and cruised home in comfort. What more can you ask for on a Wednesday afternoon?


'66 GTO




'74 Super Duty Trans Am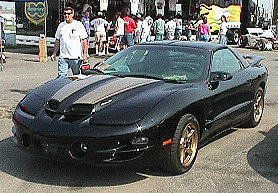 '98 Hurst WS6 Trans Am




'67 Firebird Convertible "Auto-graph"