Original Paint, Interior, and Owner!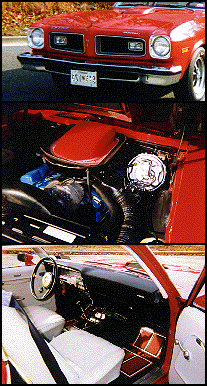 I purchased my GTO in May 1974 from Thompson's dealership in Pawling, NY. I was 20 years old and it was my first brand new car. I still have the original invoice, which we put in my father's name, for insurance/financing reasons.

Many have criticized the '74 GTO because it was no longer a "muscle" car. This is true, but since it was the last year they were going to make it, I thought it would make a nice collector's item. I drove it for about 3 years then put it up on blocks for about 13 years. In 1990, it needed a new exhaust and tires (although I still have the original tires FR-78 14). The Rally II wheels needed painting so I had them sand-blasted and painted with the original gray and silver. Other than that, the car is totally original and stock and only has 39,600 miles.

In the summer of 1997, I did a lot of work in the engine area. This included painting the engine with GM blue, painting the radiator guard, air filter housing, and master brake cylinder and replacement of every vacuum and radiator hose, both belts, spark plug wires (I still had the original set until last summer!), and valve cover gaskets. I have never used anything but Astro-Shield to polish it and it still shines like new.

My wife and I like to take it for a ride when the weather is perfect and it turns a lot of heads. We would like to start taking it to car shows and meeting other historic car enthusiasts.

It may not be a muscle car, but with the 350 4 BBL it's fast enough for me, and I love it!

Questions or comments about this car? Frank.