My 1971 455 H.O. T-37 was ordered by Mr. Warren Young of Holiday, Fla. specifically to drag race, and is one of only fifteen T-37 hardtop coupes produced with that drivetrain, according to my good friend Dan Jensen. I am the third owner of the car, and purchased it in January 1996 from the second owner, who punished the car and destroyed or kept most of the original documentation from Mr. Young with the exception of the Protecto-Plate. Fortunately, 99% of the original drivetrain was still intact, minus the air cleaner, distributor and original PQ code transmission.

Being the "dead-nuts-on" fanatic that I am, I quickly tracked down and replaced the missing components. The car has a mere 12,000 miles on the clock (all _ mile at a time) but was severely weather beaten when I purchased it, so a restoration began almost as soon as I purchased the car.

In 1997, I began dismantling the interior, and as I removed the passenger side door panel, I discovered the original build sheet taped to the back of it, in mint condition! As a result, I performed an accurate restoration as I knew all the proper mechanical components, paint codes, etc., that were included in that important document.

After three years and two layoffs, it seemed like the car was never going to be completed. I had compiled all the rare and necessary N.O.S. parts, but the funds were short to complete the resto, and I actually had thoughts of selling off this rare beast to raise cash! But soon after, I became gainfully employed, and the restoration began it's final stage, with the car being sent to a plastic media blaster in May, 1998. The underside of the car is pristine, with its original gray primer still intact, so I saw no reason to pull the car off the frame. The blasted shell and sheetmetal were sent to the body shop, while the engine was sent to be assembled soon afterward. The heads were already modified for racing, so I sent them out to Southern Style Racing and Machine in St. Pete, Fla for some expensive mods like stainless valves, porting, etc., so I would never again have to worry again about the heads.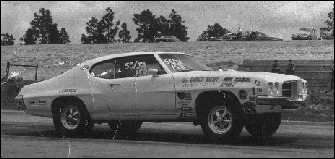 The paint and bodywork was finished in June, 1999 by my friend Don Leach, a 20-year veteran painter, and the car finally started looking like it's former self. The seats and the headliner were completely redone from scratch with N.O.S materials, as there are no seat or headliner kits for Tempests. The original door panels were mint (fortunately) and so was the rubber floor mat (yes, it has a rubber floor mat, no carpet!). Another unique item on my car is the fact that it was ordered with a factory hood tachometer. To date, Dan Jensen has only documented TWO Tempests with factory hood tachs. The car's original code XVK 12-bolt posi rear was still intact, but had 4.10 gears instead of the original 3.55 gears, so it was sent out and rebuilt, and the 3.55 gears were reinstalled as well as a new Eaton posi chunk.

I uncovered (and documented) the original yellow and green inspection splotches on top of the pumpkin as I pressure washed the rearend, so I duplicated them as close as possible before I reinstalled the rear. Originally, I ran Flowmaster mufflers, but replaced them with correct 25" shell length Walker Dynomax Super Turbos and a fresh aluminized exhaust.

I have since driven the car to see it's original owner, Mr. Young back in Oct. '99. He was taken aback as to how original and correct the car was restored, and gave me his approval. But the best part of my visit to his house was the vintage photo that he supplied me of my car back in 1971 at our local dragstrip, pulling the front wheels at the start line!

The car has been shown three times to date, and won two firsts, including one AACA event. Also included in this restoration were all NOS badges and lenses, some of which were near impossible to find. I added a power trunk, trunk lamp and a rare 1971-2 NOS underhood lamp. All of the original racing components were removed and stored for authentication, such as the rear coil spring air bags, driveshaft loop and Hurst Line Lock to name a few.

Thanks goes out to my very patient wife Suzanne and also to Dan Jensen (Mr. T-37) for providing me the valuable information I needed on this restoration.

Owner: Kevin