Build date: 5th week April '64 (as a late '64 has most factory upgrades, including '65 heads)
Color: Silvermist gray, black vinyl top, black interior
Drivetrain:Tri-Power, transistor ignition M-20 4-speed with Hurst, 3.23 positraction

Engine is balanced, bored to .020 over with 10.75:1 compression, requires racing fuel. Valve train modifications bring gross engine horsepower to 400+

I bought the car from a dealer for $1800 in 1968 when I was a college student. The original owner had put 40,000 easy miles on it. For the next four years I drove it regularly, running the clock to 101,000 miles. Other than an occasional street race (never beaten) and many miles of 100 MPH cruising (never a ticket, you could do that back then) it was always pampered. The engine was smoking badly and I parked it in a shed until I could get around to rebuilding it.

19 years laters my 15 year old son, Dave, moved the car out of storage and began to clean it up. Mice had gotten into it and made a real mess. Fortunately, they had done no serious chewing. The major cleanup soon turned into a complete frame-up restoration. I work 6 and 1/2 to 7 days per week and Dave does also when he is not in school. Therefore, finding time for resto work was difficult. By the end of 1994 our work was essentially complete.

Dave and I were quite pleased and amazed at the results of our efforts. Even more amazed were our family and friends who had been certain we would never finish this "impossible project." The only problem was that the car was now too nice (and too valuable) to be a daily driver. Thus we had to buy Dave another car. Naturally there were some details remaining (and there still are). We want to enter the car in some shows, but just do not have the time. We have put about 800 miles on it so far. It certainly draws attention when we are on the road!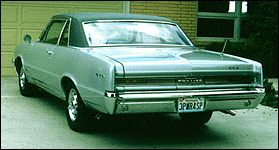 The car was factory original when we began our project and it remains a complete numbers-matching GTO. Since we did the majority of the work ourselves, and have yet to subject the car to a judge's scrutiny, we cannot be certain it is totally correct. However, we did our best, and it certainly looks like a brand-new '64 GTO to us and to our fans.

The car has all available factory options except the vacuum guage and under-hood lamp. Its options include: A/C, quick ratio power steering, power brakes, metallic linings, power windows, power driver's seat, rear defroster, power rear antenna, tachometer, guages, remote mirror, tilt-wheel, reverb radio and console.

With new springs, polyurethane bushings, gas shocks and S-rated 245/60 R14 tires on 7" wheels, the car handles like a cat. It is a joy to drive. It is disappointing that there is not a place to fully enjoy all that power and speed on the open road, as I did when I was Dave's age. That was the one part of the authentic GTO experience we could not restore. However, I still enjoy the memories. 20 years old and free, 8 lanes of empty Seattle freeway at 2:00 A.M., right foot hard against the floor. Three wide-open Rochesters gulping 105 octane Custom Supreme, pushing the speedo needle straight down, to where 145 should have been. What a ride! Or pulling along side a freeway-cruising Corvette on a Sunday afternoon, dropping to 3rd at 70 MPH, the sound of G-70s clawing for traction echoes off the retaining walls. The rearview mirror shows a 'Vette' being treated to the wail of Pontiac Tri-Power at 6000 revs. It was the summer of '69, what a time it was!





Questions or comments about this car: John

If you would like to see your car featured take a look at the Feature Car Guidelines.