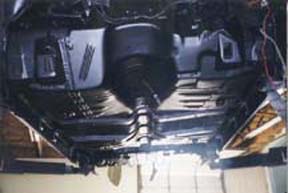 PREPARATION & RE-ASSEMBLY:

Being an Illinois car it was undercoated - boy was it undercoated. After scraping and wire brushing 22 pounds of undercoating lay on the floor! The above picture shows the underbody condition after sandblasting. It needed nothing, the undercoating had done it's job. It was so solid we could read stamping numbers on the inside of the rocker panels!

By this time the restoration project was getting exciting, progress was evident. The picture on the left shows the underbody after painting.

The frame was also sandblasted and proved to be exceptionally solid. Again we could quite easily read stamping numbers in several locations on the frame. The picture on the right shows our rolling frame (oh happy day!).

See page #4 of this site to finish our story.